Samaria
Alternate Title:

Samaritan Girl

Rating:

7

Summary:

The Korean, non-comedy version of Install

Director:

Ki-duk Kim

Year:

2004

Genre:

Coming of Age

Country:

South Korea

Language:

Korean

MPAA Rating:

R
I'm trying something new this review, I'm writing it while I watch the movie, I have the movie playing on my secondary monitor, and I'm typing it on my primary.
This movie reminds me a lot of Install, but it's a far more serious, far more Korean version. Lately it seems that South Korea is pushing out far more decent film than Japan.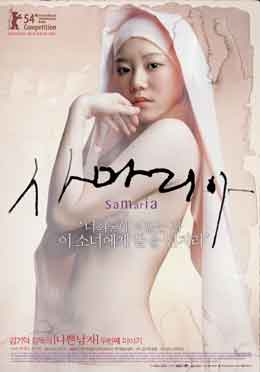 This movie starts out with two Japanese school girls, one of which is prostituting herself, and the other one managing the money and getting her men. They plan on going to Europe, and there's an undertone that there might be something more there, that they may be in love. This is indicated at least to me when Jae-yeong tells Yeo-jin that she thinks she's in love with one of the Johns, Yeo-jin becomes increasingly Jealous.
Yeo-jin makes Jae-yeong promise not to fall in love or even learn anything about any future Johns and Jae-yeong reluctantly agrees. The next day they go out to the next man, Yeo-jin is supposed to be standing watch for police, but she gets distracted by a man bugging her, and the next thing she knows she sees officers running into the apartment. Jae-yeong, with nowhere to go decides to jump out the window. She falls, lands flat on the ground. Covered with blood she orders Yeo-jin to carry her. Yeo-jin runs off with her on her back to a hospital. There we are told they'll be lucky if she makes it the night.
Jae-yeong demands to see the John she was in love with before she'll give them her parents phone number. Yeo-jin runs to find him, only to find he refuses to go unless she'll have sex with him. She crys and reluctantly agrees, thinking of her friend on her death bed. When they finally get to the hospital Jae-yeong is already dead.
This sets forth the plot of the rest of the movie, whereas Yeo-jin in an attempt to understand Jae-yeong, decides to return the money to Johns, and in the process have relations with them.
It should be noted that her father starts out as the perfect single parent, making her breakfast and encouraging her to do well in school, and this is as much a study of the affect on him as the effect on her.
Her father notices her actions, and rather than stopping her, doesn't let her know he's on to her, and takes action against the Johns, with increasing levels of violence, first just breaking a bottle and telling the guy to get lost, to humiliating them in front of their family (which they subsequently commit suicide) to out and out murdering them.
It's no masterwork, but it's on par with Oldboy for the new kind of Korean ultra violence though not in such a quantity.
Visually, there's one scene that really struck me and I'm uncertain if its on purpose or not, but her father pulls a car off a side road onto a highway, and there are maybe 3 arrows point left, and he turns right. The scene lasted maybe 10 seconds, but it was practically silent and something about it just struck me.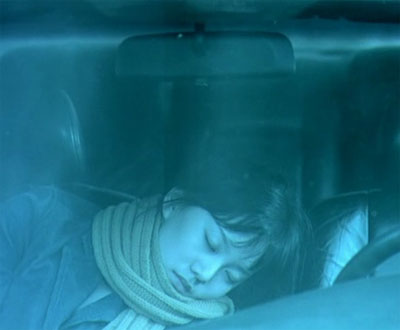 Also, this firm features what is certainly one of the worst night filters I've ever seen. I had assumed she somehow ended up underwater until I discovered what was really going on.
One last note, her father is a Christian, so I'm uncertain if they're trying to say something with that or not, but he's always talking about Miracles and such.
Hopefully next review will be on the new review system I've been building, which should allow us to review almost anything.
The end is certainly bitter, I won't say much more than that, just that despite my feelings that the film was mediocre I certainly don't regret watching it.